For those of us who grew up on Maurice Sendak, this was the first children's book that wasn't afraid to scare you as a child.  It didn't treat children's minds as premature, but rather as curious and unafraid of the what the world could hold.
It's too sad that Robert found where the wild things were, 1509 Swann Street.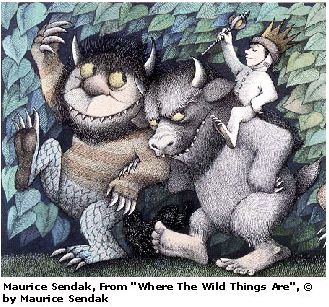 Yesterday was officially "Where the Wild Things Are" Day in honor of the birthday of this celebrated children's author, who was born on June 10, 1928.
It's officially the day to honor children's literature, writers and illustrators.
As many readers know, defendant Dylan Ward is a children's literature author, and is schooled in children's lit theory to boot holding a Masters degree.
In Paul Duggan's piece he notes:
"When a friend in Taipei, Taiwan, opened a small publishing business in 1999, Ward joined her.  The company, called House of the Tiger Aunt, produced storybooks, which Ward helped write, and other materials used to teach English in Taiwan's primary grades.  That got him interested in children's literature theory, and in 2001 he began studying for a master's degree in the subject at Boston's Simmons College."
We have also listed some of the children's books credited to Ward previously.  Do we think this has great impact on the case?   Not necessarily, but we do think their backgrounds and experiences are essential to explaining who the residents of 1509 Swann Street are as individuals and as a family.
And we know where the wild boys are now.  McLean.
– posted by David
Also: June 10 also marks exactly eleven months until the May 10, 2010 trial and the September 11 status hearing is exactly three months from today.