Lack Of Blood Leads To Conclusions, Not questions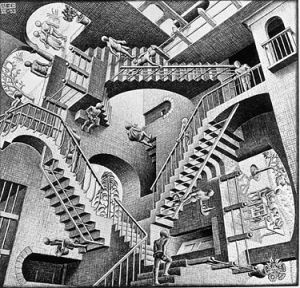 In yesterday's "Towel Boys," Craig spotlights the inconsistency of evidence found at the scene when matched to defendants' statements.  Besides a missing towel, he shows the lack of blood found on one of them.  The lack of blood on Robert, on the towels, on the bed sheet, in/on the guest bedroom, is where Escher's stairs reach their destination.
When the case goes to trial, it is likely the defense will push back on prosecution arguments concerning sexual assault, suffocation, and timeline, to name of few.  And when they can't push back, they will argue reasonable doubt.

The lack of blood creates a hurdle of evidence the defense will have a difficult time clearing.  The case could come down to this point.
Pushing back and arguing reasonable doubt could get defense a long way, but the fact is, it can't muddy up, lay a finger on, or whatever metaphor you choose, the lack of blood as probative evidence that drives one in a certain direction.
It's simple. The lack of blood does not square with the defendants' sworn statements and is NOT consistent with the "intruder" theory, in any way, shape or form.  Now, the prosecution will have a more difficult time proving other arguments like reason for suffocation and knife wounds.  But, not this one.  
Once one reaches the conclusion that the lack of blood is entirely implausible, then other intruder theory explanations begin to fall away.
Unlike Escher's staircases that lead to nowhere, a jury may reach a destination.  And a conclusion.
David, ed.